cod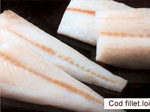 Species: Gadus morhua or Gadus macrocephalus
Presentation: Fillets: Interleaved & I.Q.F. Skin-on & Skin-less. PBI & PBO, J-cut. Light salted. Loins, Portions & Tails, according to client′s specifications.
Blocks: Bits & pieces.
Size:
Fillets: 100-200g, 200-300g, 300-500g, 500-1000g, 1000g up or 2/4oz, 4/6oz, 6/8oz, 8/12oz, 12/16oz, 16/32oz, 32oz up
Season: October to November - March to May.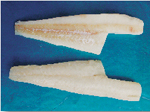 General:
- Raw material is very limited. Early program booking is strongly recommended.
- Mostly produced according to strict client's specifications.
- Net weight or Glazed according to your specifications.
- Free of additives or according to your specifications.
- Bulk pack or retail packaging. Including re-sealable bags.
- Each order is accompanied with our own QC sheets and is produced under the
supervision of our own staff.